Delphine's Quilt Shop, LC
"Piecing the past and the present into the heirlooms of tomorrow!"
Store hours: 10 am to 6 pm Monday thru Saturday



Th
is is the month to reflect and be thankful for what we've been blessed with. And, since it closely follows the store anniversary, we are reminded to be thankful for this crazy idea we call Delphine's; nine years and going! And we are thankful for all of you, our customers and friends who have made it all possible.


Go to https://www.delphinesquiltshop.com/newsletter.htm if your email server doesn't show this newsletter in its entirety.


October 31 is Reformation Day. It's been 500 years since Martin Luther nailed his 95 theses to the doors of Wittenberg Castle church. We can't let this historical event go by without a celebration. Therefore on October 31st of 2017 all our Inspriational fabrics will be 25% off per yard with 1/4 yard minimums. These bolts are located by the back cutting area and are marked with an I on the end of the bolts. There are some fabulous cloud prints as well as those with verses from the Bible; there's a little of everything under this category because of the companion prints that support the main print of each collection.


Meet the Designer - On Saturday, November 18th we will be hosting a show and tell by Vicky Holloway of MYCreative Corner3. She is the designer of the "Arrows Quilt" pattern featured in Moda's Bakeshop. In addition to designing quilts she also is a long arm quilter and she lives right here in Gaylord. At 11:00am she will be giving a talk about designing for Moda and her connection to several well known quilters, the Modern Quilt Movement and Quiltmaker 100 blocks magazine who she tested patterns for. There is no fee to attend this fun and informative session so please come in and sit a spell with us.

Black Friday - While we won't be opening early, we would like to move out some of our older but perfectly good inventory with some red hot prices!


Shop Small Instead of the Mall! Saturday, November 25 is Shop Small Business Saturday and even though Delphines is one of the biggest quilt shops in Northern Michigan, we're still a small, locally owned business. Please come and shop that day with us and take advantage of some really good deals on fabrics!

Please Note the Change In Date!
The Enchanted Garden Club will be having their Show & Tell meeting on Monday, October 30th from 4pm to 6pm. Everyone who would like to see these beautiful quilt tops and maybe even a quilt or two, is welcome to attend this meeting and join in the oooo's and aaahh's!
Hunter's Shopping Event – November 16th. Shop Downtown Businesses for a chance to win $50.00 in DMA "Bucks" to spend at the Gaylord DMA business(es) of your choice. These prizes will be given for - the longest receipt(s), the most money spent and the most shops visited. If you don't think your receipts will win the "Bucks" shop anyhow because there will be a Gift Basket drawing (multiple baskets) for everyone who shops that day! Receipts will be turned in at the Snowbelt Brewery down on Main Street.

3 Log House Retreats still have space, sign up today before they are gone!

Delphine and AnnMarie will once again be hosting The Log House Quilter's Retreats this winter. The Retreats being held from Feb 14-18, Feb 21 - 25 and Feb 28-March 4 have openings. The cost is $275 and includes all your meals from Wednesday dinner to Sunday lunch. The Log House can hold 12 quilters and we are the only ones there so you can stay in your pajamas all day if you wish to do so. No cooking or cleaning is allowed so you can devote yourself to sewing. The House is located approx. 15 minutes from the shop and is easy to find.


---
Classes
Machine Quilting Class – Free Motion and Straight Line
Friday, November 17th - 10:30am to 2:30pm

Learn how effective straight-line quilting can be and also explore your sewing machine's hidden talents as you drop those feed dogs and begin moving the quilt sandwich with your hands! Learn to meander, stipple, make simple feathers, do hand writing and more.

Class Fee $20.00

Two Fabric Bargello Class with Delphine
Wednesday, November 15th - 10:30am to 4pm

Delphine, who has made 3 quilts from this pattern, will lead you through the process of making the Lighting Bolt design of this easy but complicated looking design. Even beginners can have success with this class. We are limiting this class to 6 so don't wait too long to sign up.

Cost of class: $30.00 plus the cost of supplies
---
"IT'S NOT A SQUARE" by Carol Hopkins
featuring the AMERICAN SWATCH BOOK collection by Judie Rothermel for Marcus Fabrics.


Delphine will be hosting meetings for those who would like to make this unique quilt top. The blocks are 4" by 5" and fun to make. We will meet for 12 months to make the 72 blocks (or more) and then set them together as called for in the pattern or your own variation.

November 11th is the date for the next meeting and it's not too late to sign up. For the year, meetings will be held on the 2nd Saturday of each month. There is no fee to attend these meetings provided you purchase the Fat Quarter bundle for the program, the book and the pattern supplements (approx. $118.98) from Delphine's. If you want to attend but want to use your own fabrics the fee will be $5.00 per meeting.

Finished Quilt Size 57" x 78"


---
There is no fee to attend our club meetings (even the coffee and tea are free). You can bring your own lunch, or treat yourself to a lunch made at one of the restaurants within walking distance.
Mondays, November 6, 12, 20, 27
Whether you want to work by hand or by machine you are welcome.
The workroom is set up for 10 people and more seats can be added as needed.



This group meets on the 2nd Thursday of each month. They work on lap quilts of no particular theme that are donated to veterans through the OtsegoCounty Veterans Affairs Office.
All fabrics, patterns and battings are provided by Delphine's and donations, or bring your own.
Quilts of Valor Club


Thursday, November 16

This group meets on the 3rd Thursday of each month. They work on quilts that are donated to veterans and current servicemen, and so far, forty-plus quilts have been given away!
All fabrics, patterns and battings are provided by Delphine's and donations.
---
BLOCK OF THE MONTH Programs

Prices are per month (shipping is extra) for the duration of the program. No cancellations will be allowed and you must sign up with a credit card. After the initial deposit, your card will not be charged until the fabric is
shipped out to you each month.



Floral Menagerie from In the Beginning Fabrics



Floral Menagerie is a fun, bright quilt made with simply pieced blocks and easily appliqued animals. In our Floral Menagerie Block of the Month Program you will receive instructions and fabric to make a 24" block each month for 12 months. As usual, we are using all of the designer specified fabrics for the top and the binding. The finished size of the quilt will be 72" x 96".

The program will begin in November. The cost is $17.99 per month and covers all of the fabric for the top, plus the binding and the pattern.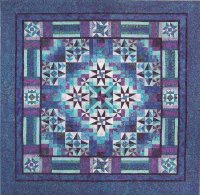 Mystical Prism
Wing and a Prayer Designs for
Timeless Treasures - This program has started but we do have a few opening left!


The 2017 Tonga Mystical Treat collection features twenty fabrics in a palette of deep blue to turquoise with purple accents. Resembling a kaleidoscope, the Mystical Prism quilt uses traditional piecing with unusual fabric color combinations. Points are easily made with Creative Grids rulers or the paper template included with the pattern. Quilt size: 102" square (King size)

Join this 12 month program today, for just $21.99 each month!


---