Delphine's Quilt Shop, LC
"Piecing the past and the present into the heirlooms of tomorrow!"
Store hours: 10 am to 6 pm Monday thru Saturday


The first weekend in October (Friday 10/6 and Saturday 10/7) marks Delphine's 9th Anniversary! We will be offering specials, a door prize each day plus a gift with every purchase! There will be special quilts on display in the work/classroom area. Come join us on both days and don't miss out on fun! This weekend also marks the 10th Anniversary of Isabella's Copper Pot, our next door neighbors and they will be celebrating on Saturday the 7th with prizes, treats and deals.


Go to https://www.delphinesquiltshop.com/newsletter.htm if your email server doesn't show this newsletter in its entirety.

Please Note the Change In Date!
The Enchanted Garden Club will be having their Show & Tell meeting on Monday, October 30th from 4pm to 6pm. Everyone who would like to see these beautiful quilt tops and maybe even a quilt or two, is welcome to attend this meeting and join in the oooo's and aaahh's!
Delphine will be down the road on Thursday, October 19th vendoring at the 30th Anniversary Celebration of the Thunderbay Quilters of Atlanta, Michigan. This event is being held at the HillmanCommunity Center, from Noon to 7pm and features a lecture by Mary Fons! Check out page 6 of the Sept/Oct issue of the Country Register to find out more or call Marge at 989-785-5597 to pre-order tickets at $4.00 each.


Delphine and AnnMarie will once again be hosting The Log House Quilter's Retreats this winter. The Retreats being held from Feb 14-18 and Feb 28-March 4 both have openings. The cost is $275 and includes all your meals from Wednesday dinner to Sunday lunch. The Log House can hold 12 quilters and we are the only ones there so you can stay in your pajamas all day if you wish to do so. No cooking or cleaning is allowed so you can devote yourself to sewing. The House is located approx. 15 minutes from the shop and is easy to find. The Retreat on Feb 28-March 4 is called Un-Plugged and has been set aside for those who want to do primarily handwork including knitting. If you have a large group of quilters who would like to attend we can set up more dates in March to accomodate more quilters. Just call the shop and ask for Delphine or reply to this newsletter to work something out.


The Amazing Shop Hop Race is over but your chance to get CHARMS is not! Delphine's ordered more of all 6 charm designs, and is your place to purchase them; on-line or in the shop. You can purchase just one, all 6, or anything in between.


The Gaylord Area Council for the Arts (GACA) will be hosting a Rug Hooking Workshop with DeEtta Beebe on October 16th from 10 am to 4 pm. Learn beginning rug hooking techniques using a hook and wool strips on a hand drawn background. The fee is $40 for GACA members and $45 for non-members. You must pre-register and pay before October 10. Call GACA at 989-732-3242 or email gaylordarts@gaylordarts.org

AnnMarie Rowland, Delphine's friend, Sister by Choice and chef for The Log house Retreats will be holding a weekend for writers, those who want to be writers or those who just have a passion for the written word. The Word Compass Retreat for Writers...and Lovers of Words will be held October 20-22, 2017 at The Log House at Michaywe. Contact Ann Marie at 989 370 7289, annmarierowland.com or facebook/annmarierowland for more information.

---
Classes
Machine Quilting Class – Free Motion and Straight Line
Wednesday, October 11th - 10:30am to 2:30pm

Learn how effective straight-line quilting can be and also explore your sewing machine's hidden talents as you drop those feed dogs and begin moving the quilt sandwich with your hands! Learn to meander, stipple, make simple feathers, do hand writing and more.

Class Fee $20.00

Two Fabric Bargello Class with Delphine
Friday, October 13th - 10:30am to 4pm (either day)

Delphine, who has made 3 quilts from this pattern, will lead you through the process of making the Lighting Bolt design of this easy but complicated looking design. Even beginners can have success with this class. We are limiting this class to 6 so don't wait too long to sign up.

Cost of class: $30.00 plus the cost of supplies
Lake Michigan Breezes Fabric Landscape Class
Saturday, October 14, 2017; 10:30 am – 3:30 pm


Learn the art of collage landscaping and amaze yourself at how easy it is to create a simple fabric landscape of the Lake Michigan shoreline. Finished project is approx. 8" x 10". Prepare to have fun!

Cost: Class - $40 & Supplies Kit - $20.


Dr. Susan Kruszynski, current educator, master storyteller, and fabric artist -
A spring 2015 visit to Steve and Ann Loveless' Beulah, Michigan art shop and subsequent purchase of Ann's tutorial book, Landscape Art Quilts, ignited the growing embers for Susan's current passion for collage landscaping. Susan, at age 11, began experimenting with fabrics to produce colorful artistic creations.
Susan is ranked #25 in the Grand Rapids Art Prize. See her entry at this link: www.artprize.org/64820
---
"IT'S NOT A SQUARE" by Carol Hopkins

featuring the AMERICAN SWATCH BOOK collection by Judie Rothermel for Marcus Fabrics.

Delphine will be hosting get-togethers for those who would like to make this unique quilt top. The blocks are 4" by 5" and fun to make. We will meet for 12 months to make the 72 blocks and then set them together as called for in the pattern or your own variation.

October 21 is scheduled for the next meeting. For the year, get-togethers will be held on the 2nd Saturday of each month. There is no fee to attend these get-togethers provided you purchase the Fat Quarter bundle for the program, the book and the pattern supplements (approx. $118.98) from Delphine's. If you want to attend but want to use your own fabrics the fee will be $60.00 for all 12 get-togethers.

Finished Quilt Size 57" x 78"



---
There is no fee to attend our club meetings (even the coffee and tea are free). You can bring your own lunch, or treat yourself to a lunch made at one of the restaurants within walking distance.
Mondays, October 2, 9, 16, 23, 30
Whether you want to work by hand or by machine you are welcome.
The workroom is set up for 10 people and more seats can be added as needed.



Comfort Quilters
While this group normally works on lap quilts that are donated to veterans, this month they will be making pillowcases for local kids of all ages.
All fabrics, patterns and battings are provided by Delphine's and donations, or bring your own.
Quilts of Valor Club


Thursday, October 19

This group meets on the 3rd Thursday of each month. They work on quilts that are donated to veterans and current servicemen, and so far, forty-plus quilts have been given away!
All fabrics, patterns and battings are provided by Delphine's and donations.
---
BLOCK OF THE MONTH Programs

Prices are per month (shipping is extra) for the duration of the program. No cancellations will be allowed and you must sign up with a credit card. After the initial deposit, your card will not be charged until the fabric is
shipped out to you each month.



Floral Menagerie from In the Beginning Fabrics



Floral Menagerie is a fun, bright quilt made with simply pieced blocks and easily appliqued animals. In our Floral Menagerie Block of the Month Program you will receive instructions and fabric to make a 24" block each month for 12 months. As usual, we are using all of the designer specified fabrics for the top and the binding. The finished size of the quilt will be 72" x 96".

The program will begin in October. The cost is $17.99 per month and covers all of the fabric for the top, plus the binding and the pattern.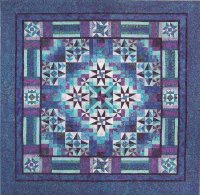 Mystical Prism
Wing and a Prayer Designs for
Timeless Treasures (starting in October)


The 2017 Tonga Mystical Treat collection features twenty fabrics in a palette of deep blue to turquoise with purple accents. Resembling a kaleidoscope, the Mystical Prism quilt uses traditional piecing with unusual fabric color combinations. Points are easily made with Creative Grids rulers or the paper template included with the pattern. Quilt size: 102" square (King size)

Join this 12 month program in October, for just $21.99 each month!


---
Recipe of the Month
CINNAMON-APPLE TWIST BREAD