September Newsletter
Delphine's Quilt Shop, LC
"Piecing the past and the present into the heirlooms of tomorrow!"
Store hours: 10 am to 6 pm Monday thru Saturday


Labor Day travelers... did you note that the Bridge will be closed to all traffic on Labor Day from 6:30 am until noon? And there is a real possibility that northbound I-75 may be closed at Gaylord exit 282 to all traffic from 9:30 am until 11:30 am. At Delphine's, we understand the hardship that will cause some travelers. So, if your travel plans mean that you may have to layover in Gaylord, Delphine's will open at 9:30 am so that you can stop in and use the restrooms and even get yourself a cup of coffee. If I-75 is closed, Print, Flannel and Batik Fat Quarters (non-sale) will be discounted by 75 cents each during the time of the closure. If I-75 is not closed the discount will be 57 cents each, for the entire day (the bridge is 57 miles from Gaylord)! All pre-measured skinny rolls will be $5.00 a yard and you can take an additional $1.00 off, per yard, all 300+ Sale Bolts for the entire day. The shop will be open from 9:30am to 4:00pm on Labor Day.

Moda has declared the third Saturday of September "National Sew a Jelly Roll Day". Delphine invites you to come to the shop for part, or all of the day, September 16th and join others for a Sew Day of projects that use Jelly Rolls! Bring a Jelly Roll from home or get a brand new one, the choice is yours. Please call the shop at 989-732-1252 to reserve your space for this fun day and yes; there will be jellyrolls from the Cops and Donuts Bakery for you to snack on! For more info, go to http://www.projectjellyroll.com/
On Tuesday, September 26th Delphine's will be hosting a "Sew-a-long of Pillowcase Dresses"to be donated to a mission group. Please consider joining us to sew, cut, and/or press these dresses. Supplies needed are the following: Per dress: 2 yards of bias tape or ribbon, 7/8 yard of cotton fabric plus 1/4 yard of co-ordinating fabric, plus your sewing machine, rotary cutter, thread and scissors. We will be meeting from 10am to 4pm.


The EnchantedGarden Club will be having their Show & Tell meeting on Monday, October 16th from 4pm to 6pm. Everyone who would like to see these beautiful quilt tops and maybe even a quilt or two, is welcome to attend this meeting and join in the oooo's and aaahh's!
Delphine will be down the road on Thursday, October 19th vendoring at the 30th Anniversary Celebration of the Thunderbay Quilters of Atlanta, Michigan. This event is being held at the HillmanCommunity Center, from Noon to 7pm. Check out page 6 of the Sept/Oct issue of the Country Register to find out more or call Marge at 989-785-5597 to pre-order tickets at $4.00.
The Row by Row Adventure! wraps up on September 5. There are free patterns for everyone who asks, plus fabric kits for purchase are available. This year's theme is "On the Go" and we designed ours with a quilter's focus. We even made a tote from our row so it can go to retreats, shows, classes or even shopping! It will all be available online starting November 1.


The Amazing Shop Hop Race is over but your chance to get CHARMS is not! Delphine's has ordered more of all 6 charm designs, and is your place to purchase them; on-line or in the shop. You can purchase just one, all 6, or anything in between. Don't delay,they are going quickly!


Delphine's is reducing the cost of shipping! Check out the online store at www.delphinesquiltshop.com . So, where ever you are this fall and winter, it will still be affordable to shop at Delphine's!



---
Classes
Machine Quilting Class – Free Motion and Straight Line
Saturday, September 23rd OR Wednesday, October 11th - 10:30am to 2:30pm

Learn how effective straight-line quilting can be and also explore your sewing machine's hidden talents as you drop those feed dogs and begin moving the quilt sandwich with your hands! Learn to meander, stipple, make simple feathers, do hand writing and more.

Class Fee $20.00

Two Fabric Bargello Class with Delphine
Thursday, September 28th OR Wednesday, October 11th - 10:30am to 4pm (either day)

Delphine, who has made 3 quilts from this pattern, will lead you through the process of making the Lighting Bolt design of this easy but complicated looking design. Even beginners can have success with this class. We are limiting this class to 6 so don't wait too long to sign up.

Cost of class: $30.00 plus the cost of supplies
Lake Michigan Breezes Fabric Landscape Class
Saturday, October 14, 2017; 10:30 am – 3:30 pm


Learn the art of collage landscaping and amaze yourself at how easy it is to create a simple fabric landscape of the Lake Michigan shoreline. Finished project is approx. 8" x 10". Prepare to have fun!

Cost: Class - $40 & Supplies Kit - $20.


Dr. Susan Kruszynski, current educator, master storyteller, and fabric artist -
A spring 2015 visit to Steve and Ann Loveless' Beulah, Michigan art shop and subsequent purchase of Ann's tutorial book, Landscape Art Quilts, ignited the growing embers for Susan's current passion for collage landscaping. Susan, at age 11, began experimenting with fabrics to produce colorful artistic creations. Look for her work in two September 2017 art contests:
Grand Rapids ArtPrize, Reaching Upward #64820; J.Gardella's Tavern on 11 Ionia
Grand Haven ArtWalk, Michigan Cities in Monochromes
; Blueberry Haven, 213 Washington, Grand Haven
---
BEE Happy - Lori Holt Sew-Along
The patterns for this quilt top are posted, at no charge, on Lori Holt's web-site. We have kitted the fabric and trim, with no substitutions, for the complete quilt top at the price of $189.99 minus 15%, so the total price is $161.49. There is only one kit left so call asap to claim it for yourself.

All patterns will be posted on Lori's blogspot and you simply need to download them or work off your screen. Click on this link for more information: Bee_Happy
"IT'S NOT A SQUARE" by Carol Hopkins

featuring the AMERICAN SWATCH BOOK collection by Judie Rothermel for Marcus Fabrics.

Delphine will be hosting get-togethers for those who would like to make this unique quilt top. The blocks are 4" by 5" and fun to make. We will meet for 12 months to make the 72 blocks and then set them together as called for in the pattern or your own variation.

The first get-together will be on Saturday, September the 9th from 10:30 am to Noon. For the year, get-togethers will be held on the 2nd Saturday of each month. There is no fee to attend these get-togethers provided you purchase the Fat Quarter bundle for the program, the book and the pattern supplements (approx. 118.98) from Delphine's. If you want to attend but want to use your own fabrics the fee will be $60.00 for all 12 get-togethers.

Finished Quilt Size 57" x 78"




Tokens of Thyme

We are participating in Marcus Fabrics first WOOL COLLECTION Block of the Month and it is made with a set of 10" wool squares plus the background wool.

The pattern was designed by Darci and Lacey Schipnewski, the mother-daughter team behind Pastthyme Patterns.

The cheery, colorful sampler style appliqué design is suitable for all skill levels and created with a single pack of (20) 10" x 10" WOOL PRECUTS! Marcus wool is a premium quality, rich and luscious, and designed to work beautifully for appliqué.
Seasonal appliqué motifs are worked on a cream wool background. The sample is shown in a wooden frame, and the 6" x 6" blocks can also be displayed individually on wire racks, made into a calendar, incorporated into other quilt projects and more! The small block size and hand stitching make them the perfect take-along project. The instructions include diagrams for basic embroidery stitches, so they're beginner friendly, too.
The cost is $85.00 to participate and meetings will be held every 2nd Saturday, starting September 9th from 1:00pm to 2:30pm for those who are new to working with wool or simply want to meet with like minded folks to create a lovely project. Delphine will be the leader for this program.
---
There is no fee to attend our club meetings (even the coffee and tea are free). You can bring your own lunch, or treat yourself to a lunch made at one of the restaurants within walking distance.
Mondays, September 4, 11, 18, 25
Whether you want to work by hand or by machine you are welcome.
The workroom is set up for 10 people and more seats can be added as needed.



This is a new group that meets on the 2nd Thursday of each month. They work on lap quilts of no particular theme that are donated to veterans through the OtsegoCounty Veterans Affairs Office.
All fabrics, patterns and battings are provided by Delphine's and donations, or bring your own.
Quilts of Valor Club


Thursday, September 21

This group meets on the 3rd Thursday of each month. They work on quilts that are donated to veterans and current servicemen, and so far, thirty-plus quilts have been given away!
All fabrics, patterns and battings are provided by Delphine's and donations.
---
BLOCK OF THE MONTH Programs

Prices are per month (shipping is extra) for the duration of the program. No cancellations will be allowed and you must sign up with a credit card. After the initial deposit, your card will not be charged until the fabric is shipped out to you each month.



Floral Menagerie from In the Beginning Fabrics



Floral Menagerie is a fun, bright quilt made with simply pieced blocks and easily appliqued animals. In our Floral Menagerie Block of the Month Program you will receive instructions and fabric to make a 24" block each month for 12 months. As usual, we are using all of the designer specified fabrics for the top and the binding. The finished size of the quilt will be 72" x 96".

The program will begin in October since the fabrics are due to arrive in September. The cost is $17.99 per month and covers all of the fabric for the top, plus the binding and the pattern.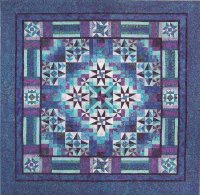 Mystical Prism
Wing and a Prayer Designs for
Timeless Treasures (starting in October)


The 2017 Tonga Mystical Treat collection features twenty fabrics in a palette of deep blue to turquoise with purple accents. Resembling a kaleidoscope, the Mystical Prism quilt uses traditional piecing with unusual fabric color combinations. Points are easily made with Creative Grids rulers or the paper template included with the pattern. Quilt size: 102" square (King size)

Join this 12 month program in October, for just $21.99 each month!


---
Peach Pie Scones with a Vanilla Glaze


Compliments of Kari Carr, the designer of Hoffman's new digital collection called "All a Twitter" (which we have) and her favorite food blogspot A Latte Food.
These easy Peach Pie Scones taste just like peach pie! Peaches 'n Cream Scones are the perfect summer breakfast or summer brunch recipe! With their sweet vanilla glaze, these peach cream scones taste like they have a scoop of vanilla ice cream on top!



Ingredients



Scones

2 cups + 2 Tbsp all purpose flour

1/3 cup brown sugar

1 Tbsp baking powder

1/2 tsp salt

1/2 cup unsalted butter, cubed and cold

1 egg

1/4 cup heavy whipping cream, plus more for brushing

1/4 cup sour cream

2 tsp vanilla extract

1/2 cup fresh peaches, diced
Vanilla Glaze

1/2 cup powdered sugar

2 tsp vanilla extract

1-3 Tbsp heavy whipping cream
Preheat oven to 400 degrees. Line a baking sheet with parchment paper.

In a bowl, mix together flour, brown sugar, baking powder, and salt. Once combined, cut in the butter with a fork or pastry cutter until the mixture resembles coarse crumbs.

Whisk together heavy cream, sour cream, egg, and vanilla extract. Slowly add the wet ingredients into the dry ingredients, and mix until just combined.

Stir in the peaches, and mix until just combined.

On a well-floured surface, turn out the scone dough and pat into a small disk that's about a 1/2" thick. Cut into 6-8 slices, and transfer to the baking sheet. Brush each scone with just a bit of heavy cream.

Bake for 16-18 minutes, or just until golden brown. Allow to cool.
Whisk together powdered sugar, vanilla extract, and 1 Tbsp of heavy cream. If the glaze is too thick, continue adding in heavy cream, one 1 Tbsp at a time, until it has reached the desired consistency. Pour over warm scones and enjoy!
---
Save